Sold Out
Everyone from Nebraska loves Valentinos, so why not include some of their famous sauce in the Nebraska Box?  
Because of the size and weight of this glass jar of delicious Valentinos spaghetti sauce, we're forced to add an additional $4 to your $8.49 flat rate shipping cost when this item is added to the Nebraska Box.  We appreciate your understanding!
Ready to build your very own Nebraska Box?  Click Here!
Valentino's History
In 1957, Val and Zena Weiler operated the Campus Fruit Market in Lincoln, Nebraska. It was clear to them that their business would soon be eclipsed by the large supermarkets springing up across Lincoln. The landmark which had stood for a dozen years, had to go. In its place, armed with three dozen pizza pans, a recipe that had been in Mrs. Weiler's family for years, and a generous amount of trepidation, they decided to open a pizza business.
They took in $60 their first day, and as the restaurant's reputation grew, patrons began to gather and watch through the window as the pizzas were made. They would stand in line for an hour or more to sample the pizza and pasta specialties created in the original restaurant.
There was just one location then and no trip to the city was complete with out stopping to eat at Valentino's!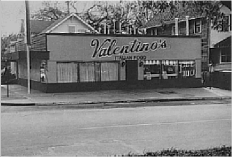 About three years after the 1971 purchase of Valentino's, members of the Messineo and Alesio families carefully formulated plans to expand into additional locations.
Through controlled expansion, and an elaborate system of quality controls, Valentino's steadily grew. In 1990, Valentino's opened its first Valentino's To-Go location, offering take out service only. These stores were an immediate success. Today there are more than 18 successful To-Go locations operating.
Today, Valentino's has expanded to 35 restaurant locations in 4 different states. The wait is seldom longer than fifteen minutes now, but the recipes and meticulous preparation steps remain.
The Secret to Success
Valentino's success began with those wonderful family recipes that were passed on when the business changed hands in 1971. However, there's more than recipes to this story. The highest quality food, reasonable prices, immaculately clean and comfortable restaurants, genuinely friendly service, and a written corporate creed which says that "community service is as important as the quality of the food", have helped keep Val's tremendously popular.
Carrying on the Tradition
Valentino's success is a reflection of its owners and employees and their commitment to excellence. Valentino's approach is a lot like our way of life here in Nebraska. It's striving to always do the best job you can and carry on the tradition.